In my Input: Moving Beyond Forms presentation at the Web App Masters Tour (which spanned five cities across the U.S.) I discussed several ways Web applications can collect user input, through both mobile devices and desktop software, without forcing users to complete a lengthy sequential forms.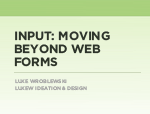 You can download the slides from this presentation now.
A web app can't exist without the user's input. We need the data, but do we need the form? Traditional web forms have been the mainstay of application design but new approaches for input now give designers more to work with and create better user experiences. Read more...