Apple's App Store recently surpassed 85,000 applications, 2 billion total app downloads, and over 6 million app downloads per day. These numbers make it pretty clear people are interested in using mobile applications. But what are they primarily using all those apps for?
While Apple uses about twenty categories to organize the apps in their store, their classification system is mostly topical and therefore not directly aligned with how people are using apps. So it might be interesting instead to look at high-level use cases as a way to understand what people are doing with mobile apps.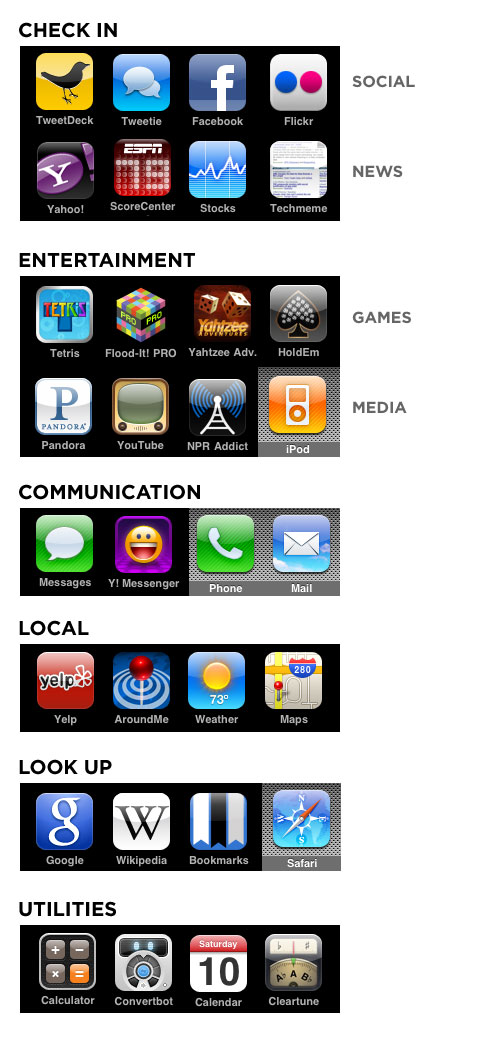 Check In: these continually updating apps encourage quick "check-ins" in between meetings, when in line, or when bored. Because they generally provide really small sized updates like headlines or short messages, the cost of opening one of these apps to check-in is really low. As a result, people tend to use these apps several times a day. Social check-in apps are probably the most popular because their content comes directly from people you know.
Entertainment: if you have more than a minute or two to kill, entertainment apps provide instant boredom relief. They can also employ game mechanics to keeping bringing people back or provide entertainment for extended periods of time through media (music and video) playback.
Communication: text, email, instant message, or call people. While people access these communication channels quite regularly, more involvement is required. Taking a call, responding to email, or having an IM conversation can take several minutes and therefore isn't ideal for quick check-in behavior.
Local: call up local apps when you are moving through space. Local apps allow you to: find the nearest gas station with low prices, locate a well-rated lunch destination, get an overview of today's weather, and even navigate physical space using maps and driving directions.
Look Up: answers and content at your fingertips. Look Up apps provide instant access to a wide variety of information through Web browsing, and search. Topic-specific look up apps provide direct access movie ratings or ski reports -no search or browse required.
Utilities: apps that perform specialized tasks. While these apps don't get very frequent use, they are really handy for meeting specific needs. Think calculators, calendars, convertors, tuners, remotes, recorders, scanners, editors, and more.