I recently had the pleasure of being a guest on The Conversation with Travis Isaacs and Dan Benjamin.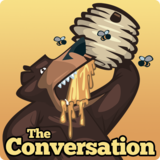 We spent about an hour talking about design tools, processes, and how Apple's presentation software, Keynote, can help. An increasing number of designers (myself included) are turning to Apple's presentation making software, Keynote, to design and prototype software applications. Find out why.... You can check out the video on iTunes or The Conversation site:
Big thanks to Dan and Travis for having me on!