Influencing Strategy by Design
by Luke Wroblewski April 19, 2010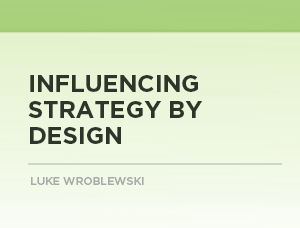 Description
This half-day course will teach designers how to contribute to the direction of their company by synthesising and articulating clear, actionable business and product strategies. Often, growth opportunities for designers are artificially limited by org charts that fail to fully capitalise on the galvanising role that design can have beyond product or marketing. This course empowers designers by giving them tools to impact strategy by illuminating important decision-drivers like market or user research, web analytics, financials, and product reports.
This hands-on course is created for experienced designers, enabling them to influence and improve strategic decision-making within their department or company. They will learn principles for communicating and influencing strategy, along with practising skills and techniques through group activities, and working directly with Luke. This course will maximise a designer's ability to help their organisation make better decisions.
Apply your existing design skills to strategy development and execution.
Help your organisation make better decisions.
Manage organisational dynamics to get things done.
Take advantage of metrics to help frame and broaden your understanding of problems.
Utilise pattern recognition to identify meaningful relationships and insights within data.
Employ design techniques to communicate with multiple domains and levels.
Make effective executive presentations.
Presented at: