Rethinking Mobile Checkout
by Luke Wroblewski August 16, 2012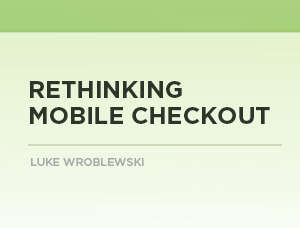 Video
Watch this presentation from August 16, 2012 at ETail East Boston, MA.
Description
As more people get their shopping done on mobile devices, today's e-commerce checkout experiences aren't keeping up. Existing lengthy checkout forms are a chore to complete even with large screens and full keyboards. So it's little wonder that people on small mobile devices operated by less precise fingers are having even more issues.
To create effective mobile checkout experiences, we need a different mindset & design approach. In this detailed presentation, Luke Wroblewski will walk through an existing e-commerce checkout flow and optimize it for mobile usability and conversion using techniques like input types, attributes, masks, and more. He'll also look at the future of checkout and how we can move away from relying on forms for online shopping.
Presented at: