Mobile Web Design Moves
by Luke Wroblewski February 29, 2012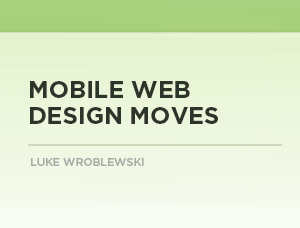 Description
Mobile dances to a different beat. Learn how to transition what you know about designing for the Web to mobile and pick up a bunch of new moves along the way that'll help you rock mobile Web experiences including:
Why should I care about mobile design?
What makes mobile design different?
How can I organize my content & navigation systems for mobile?
What are the best practices for Web forms on mobile devices?
Notes From Others
Presented at: