A recent exercise on scalable organizational models led me to develop an interesting way of visualizing individual and group strengths within product development organizations.
On the horizontal axis, I included the skills required to build successful products as defined by Donald Norman in The Invisible Computer.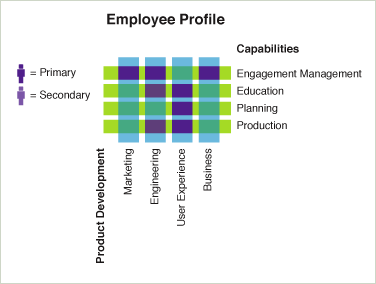 Marketing: "For a product to sell, marketing experts must ensure that the product provides the features that customers require and that the product attributes are highlighted in advertisements, product literature, and product appearance."
Engineering: "There must be an appropriate technology, one capable of delivering the required functions and performance at reasonable cost."
User Experience: "An enjoyable and effective user experience does not come about accidentally; it requires considerable focus on the needs, abilities, and thought processes of the users."
Business: "The product must be built upon a solid economic foundation, providing the required attributes for a price that is acceptable to the consumers but that still yields a profit to the company."
The vertical axis represents capabilities. Engagement Management: Managing client relationships and projects (sometimes even budgets). Education: Includes skills in knowledge management, best practice sharing, and external activities (conferences, books, articles, etc.). Planning: Developing product strategies, long-term visions, and roadmaps. Production: Consistently effective execution against product requirements.
Individuals and group competencies can be mapped to this matrix with varying levels. For instance, in the example shown above (my personal profile) two levels of competency are shown: primary and secondary. User experience design and engagement management are my primary strengths and Web development skills (engineering) are secondary.