On the Goodreads site, Marty DeAngelo posted a detailed review of my new book Web Form Design: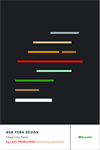 "Good or bad, there aren't many books that I can use for my job that I go through quickly. There's just something about a limit to my absorption of information from these books that makes me take my time to get through them. However, that was not a problem with this book. Chock full of good information, Wroblewski manages to make it a quick, easy and yet informative read that only took me 2 days cover-to-cover.
For anyone that works on the web, forms are going to be something you deal with at one time or another. Usually, it's an experience in trying to get a form to do what YOU want it to do without regard to what the customer really wants or needs. However, I've been working on a bunch of projects recently where I really need to consider what the customer wants because one of our main goals is to get users to register, and I know how fickle they are when it comes to signing up for things. So, this book was not only interesting but very timely.
The best thing about the book is how well written it is. It's fairly simplistic in getting its point across, using a lot of illustrations to really drive home the points that the author is trying to get across. His tone and personality really mesh with how the book is presented, making it almost conversational as he explains some of the major concepts and then delves deeper into the best ways to develop and present forms.
Each chapter is relatively short (about 8 - 21 pages), but chock full of good advice. The succession will also help people trying to make their forms better work their way into more and more elaborate ways of creating 'bulletproof' forms. While you won't get as far in-depth as you might need on any given topic (I wanted to know more about error messaging, a personal anathema right now) or much about the coding of the pages, the principals and direction are dead on.
As I said, the language and personality Wroblewski - whose credentials include former Lead Usability Designer at eBay, founding member of Interaction Design Association (IxDA) and current "Senior Principal of Product Ideation and Design" at Yahoo! - create a more approachable presentation than you might think from someone who is one of the leaders in usable design. Less teacher and expert-on-high and more friendly "have a beer and chat" usability guru, I found it easy to get sucked into one chapter and not look back until 3 chapters later.
The examples he uses are also top-notch. Granted, he has a great body of work to pull from, but he does a great job of using examples from a breadth of industries and user types -- everything from Fortune 500 banks to e-commerce to new Web 2.0 social networks are represented, showing that good form design isn't for any single audience. The illustrations are also well-placed in showing principles and comparisons between different methods, adding to the ease with which someone can learn how to build the better form.
His information comes from more than just his own experiences, though. Several key studies provide relevant data that give credence to the ideas presented here. He's not afraid to say, 'It depends' when it does or to say that while something might be a bad idea for the most part (and here's way), that you couldn't make it work in some limited situation. He offers what seems to be the best way to accomplish certain things within a form, without putting his own personal feelings into it (well, for the most part - and when he does, it's always in a humorous manner).
And this is a book that anyone can use - not overlay-laden with technical terms, it's instead a thorough but amazingly understandable set of observations, suggestions and instructions on how to make the forms you are creating eminently more usable for all those involved - but most especially for the customers or visitors of the sites we're building. I needed it to answer a couple specific questions I had, but it quickly opened up other paths and solutions for me I wasn't yet considering.
At this point, I have to say that this is probably one of the best UX books I've read. It might not be as thorough and ground-breaking as Saffer's "Designing for Interaction" or Zeldman's "Designing with Web Standards", but for the specificity of the topic, it really does a great job a covering all of the bases and giving real-world, actionable examples and guidance. A great buy - and I think that if you , you also get a PDF version (great because it's searchable."
-By Marty DeAngelo from Goodreads