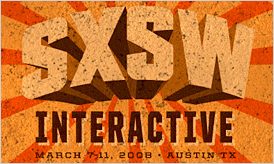 On March 8th and 9th I'll be at South by Southwest (SxSW) 2008 in Austin, Texas and speaking on two panels with great folks from Google, Apple, Zurb, LinkedIn, and Lucky Oliver. Should be a lot of fun given the topics we are addressing:
You know the drill - you're in the early stage of developing a website for an idea and suddenly realize you're wasting time cutting up placeholder images, experimenting with fonts, and trying different form layouts when what you ought to be doing is making those forms actually work! But you want to demo this thing to your friends and get some feedback, and you want it to look decent. We're going to be discussing the pros and cons of borrowing UI and principles from other sites and folks who've done the testing.
There's one word you should utter to the next client who asks you to design a logo: 'No.' Once the backbone of a brand's identity, logos have moved to the 'relatively unimportant' end of the 'important stuff' spectrum. This panel will explain how and why logos became irrelevant and will discuss how to break this news to your clients...and what the heck you do first on a design project if it isn't the logo.
Hope to see some of you there.