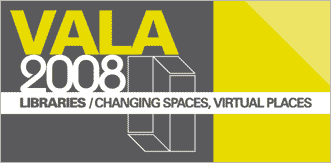 On February 7th I'll be presenting a plenary session at the VALA2008 Biennial Conference and Exhibition, in Melbourne, Australia. The theme for this conference is Libraries: changing spaces, virtual places.
What does the growth of search, social applications, rich interactions, and participatory culture really mean for the design of Web applications? What behaviors do team building online experiences need to address that they didn't before? Luke Wroblewski addresses these questions and more with an overview of important online trends and their impact on the design of Web services and products.
Hope to see some of you there.