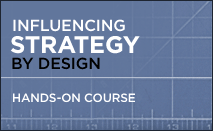 On Saturday November 17th, I'll be teaching a full-day course, Influencing Strategy by Design, for mid to senior level designers on how to influence and improve strategic decision-making within their department or company.
This eight hour, hands-on course will be co-taught with Tom Chi as part of the Involution Master Academy (an educational program for experienced professionals in design and related fields) in Sunnyvale, CA. Attendance is very limited to ensure each participant gets extensive hands-on time with the instructors. Registration opens today so get in soon if you're interested.
The Official Description
This full-day course will teach designers how to greatly expand their influence by synthesizing and articulating clear, actionable business and product strategies. Often, career opportunities for designers are artificially limited by org charts that fail to fully capitalize on the galvanizing role that design can have beyond product or marketing. This course empowers designers by giving them tools to impact strategy, by illuminating important decision-drivers like market or user research, web analytics, financials, and product reports.
Created for experienced designers who want greater influence over strategic decision-making within their department or company, this hands-on course will immerse you in principles for communicating and influencing strategy and teach you and practical skills and techniques through group activities with Luke and your fellow students. By the end you will have new insight into the untapped potential that your design skills have to transform your career. See complete course details.
Key skills include:
Pattern recognition
Story-telling
Information visualization
Empathetic articulations of strategy
Hope to see some of you there!