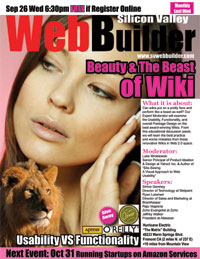 On Wednesday September 26th, I will be presenting and moderating a wiki software showcase in Freemont, CA. The event is cheekly titled Wiki of Beauty & The Beast: Usability & Functionality and will focus on the design of collaborative document editing software online. In other words: wikis.
Presenting with me will be representatives from wiki providers Wetpaint, Zoho, BrainKeeper, and Atalssian. From the official description:
"Can wikis put on a pretty face and perform like a beast as well? Our Expert Moderator will examine the Usability, Functionality, and overall Design of the leading Wiki software providers. Our panel will examine best practices and common mistakes of Wiki design."
Hope to see some of you there!