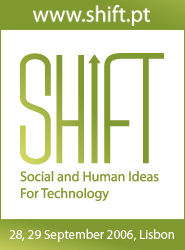 On September 28th I'll be speaking at the SHiFT (Social and Human Ideas for Technology) conference in Lisbon, Portugal. My addition to the great program the conference organizers have put together will be about the Shifting Role of Design. In particular:
"In an increasing number of companies the role of design is changing dramatically from mere styling to a core ingredient of product strategy and innovation. But what's behind this shift? Why are designers previously tasked only with "making things pretty" begin invited to the corporate strategy table? This talk will examine the impact that recent technology and market changes have had on the role of design within modern companies. In particular: the decreasing distance between equations and solutions made possible by technologies like 3D modeling and rapid prototyping; the increasing rate of commoditization driven by shorter product lifecycles and cheaper manufacturing; the always on availability of massive data sources; and the growing ability of consumers to absorb and enjoy increasingly complex media and interfaces."
Registration for SHiFT is now open (with a 50% discount if you register by August 30th). Hope to see some of you there!