Within a large design group you are likely to encounter two distinguishing career goals: designers who want to manage others and designers who don't. As a result, it makes sense for the organizational structure of the group to support the career goals of both individual contributors and managers.
In Design Group Organization I presented a model that accounts for these differences with roles for Strategic Designers and Product Leads. Product Leads often enjoy coordinating the efforts of a design team tasked with driving a product area forward. Strategic Designers tend to favor the ability to influence product direction through hands-on work.
But like all organizational structures, there's limited capacity for many of these positions. So where does the Product Lead who's successfully managed the ongoing design of multiple products take their career next? What opportunities exist for the Strategic Designer who skillfully coordinated the ideation of many new products?
In both cases, the opportunities may exist beyond the design organization. Product Leads may opt to pursue more direct product ownership by absorbing business responsibilities and becoming business/product owners in the Product Management organization. Strategic Designers may instead expand their skills to include new business growth and move into Product or Corporate Strategy groups. The diagram below illustrates these potential growth paths as well as those found within the design group (red lines).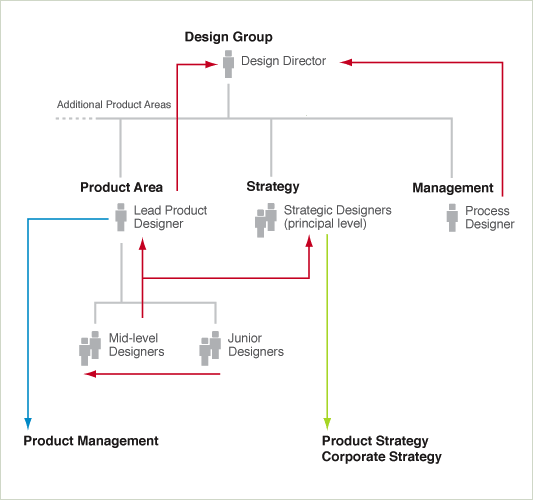 Though it's hard for any design organization to let go of their senior talent if they choose to migrate to other groups, the benefit lies in closer ties between the design group and the company's other business and strategic functions. The time spent and experience gained within the design group helps these "alumni" not only better coordinate working relationships between designers and the rest of the company but also communicate the value of design far and wide.