Kris Layon's latest book, Mobilizing Web Sites: Strategies for Mobile Web Implementation, was recently released. The book outlines ways Web designers and developers can begin to make their existing desktop sites work well on mobile devices. Kris gave me the pleasure of writing the book's forward and here it is:
Foreword by Luke Wroblewski
Baby steps.
The phrase gets bandied about so much these days that we often lose sight of its significance.
A baby's first steps aren't just a few simple motions that get them started. They're a profound transformation from seeing the world move around us to taking part. Baby steps change our entire perspective and open up countless new opportunities to not only walk but run, skip, and dance. They're our entry into a whole new way of living.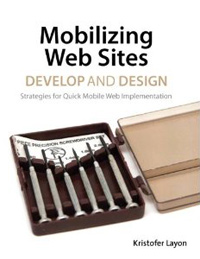 The book in your hands (or on your screen) is also an entry into something new. Something so transformational it's fundamentally changing how we interact with our knowledge, our places, and with each other. That something is how we experience the Internet on mobile devices.
Always with us, always connected, fast and powerful mobile devices are taking over and redefining how we find answers, make purchases, share with others, and get things done. In 2009, 50% of all new Internet connections worldwide came from mobiles. By 2013, mobiles will overtake PCs as the most common Web access devices worldwide.
If you've got an existing Web site, chances are you're already noticing the transition and seeing your mobile traffic rising fast. But if you do have an existing Web site, do you need to start over to be relevant in the mobile age? How can you and your site adapt to such rapid change?
Baby steps.
Kris's book is filled with them— little but powerful things you can do today to adapt your current site to the changing Web and the growing importance of mobile devices. These techniques will get you started without having to completely rebuild and redesign your current Web site. But like real baby steps, they'll also open your eyes to new opportunities and ways of seeing the Web. From there, who knows how far you'll go.
So what are you waiting for? Take those first steps now.